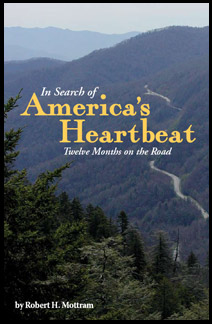 Vermont RV Parks: The RV parks in Vermont You Want to Visit!
RV parks in Vermont are fairly numerous, which is reflective of northern New England's reputation as a prime vacation spot. Vermont RV parks come in a variety of levels of sophistication.
My wife and I spent about 15 days with our 32-foot trailer in Vermont RV parks as part of a 30,000-mile road trip that had begun the year before from our home in the Pacific Northwest. We had undertaken this adventure in search of our country and of ourselves, and the trip is recounted in my book, In Search of America's Heartbeat: Twelve Months on the Road.
Our first RV park stop in Vermont was at:
Running Bear Camping Area in Ascutney. This RV park provided paved and gravel interior roads, 12 grass and 35 dirt sites for travelers, six with full hookups and the rest with water and electric, LP gas, a heated pool and recreation hall. The area where they put us was essentially a meadow surrounded by woods, with RVs backed to the edge of the meadow.
Ascutney is located on the Connecticut River, which forms the boundary between Vermont and New Hampshire. It's a good base camp from which to see most of Vermont and much of New Hampshire. Vermont, in particular, is a fascinating place. The longer you can spend here and the more slowly and more leisurely you can explore the state, the more opportunity Vermont will have to work its special magic on you. Things are located close together in this part of the country, and a day is adequate time to get back and forth across Vermont and up and down most of it.
Our next RV park stop in Vermont was at:
Sugar Ridge RV Village & Campground near Danville. This neat and beautiful RV park provided gravel interior roads, 130 gravel sites, five of them pull-throughs, 107 with full hookups and the rest with water and electric. It provided wireless Internet access, cable TV, laundry room, groceries, RV supplies, LP gas, heated pool, recreation hall. Fishing was available in a campground pond. Planned activities were offered, including horse-drawn wagon rides.
This was a good RV park from which to see the northern portion of Vermont, including what Vermonters call their Northeast Kingdom. We also found it to be a good place to leave our RV and run north by truck to Montreal for a couple of nights in a Canadian bed-and-breakfast.
We spent a couple of weeks in Vermont but, if time allowed, could have happily stayed for a couple of months or more. Here's an excerpt from my book that talks about the attraction of Vermont:
"Vermont exerts an unusual pull on many people, myself included. It's a tiny state, heavily forested, mostly up and down, a place of often brutal winters. It has a charm, however, that grows on you with time. Blast across Vermont on the Interstate highway, which you can do in a couple of hours, and you'll miss the point entirely. But immerse yourself in the place for a couple of weeks, explore the back roads and the tiny towns with their general stores and their community celebrations, and the place will win your heart."
And another:
"When I was a kid, Vermont claimed more dairy cows than people. Matter of fact, it had fewer permanent residents then than it had immediately after the Civil War, Vermonters said. Don't know if that's still the case. When that war ended, a lot of men returned from the fighting, loaded their families into covered wagons and headed for Oregon. Most of the land here had been cleared for farming until then, and when the migration moved west the forest rapidly returned. I could hike through these wooded hills as a kid -- still can -- and find stone 'walls,' or fences, that used to mark the boundaries of farm fields. The woods are full of them, some built as long ago as the early 1700s. Now they're walls that in many cases mark nothing. It's impossible to see one stretching for hundreds of yards in the woods and not appreciate the labor that went into it. It's a reminder of how much human toil -- seemingly important at the time -- appears to come to naught."
If you're considering exploring any Vermont RV parks, I hope you've found these observations helpful. If you know of any other RV parks in Vermont that I should add to this list, e-mail me at searchforamerica@msn.com
To read a great book about life on the road, including my travels through some of the great RV parks in New England and the Northeast, grab your copy of In Search of America's Heartbeat: Twelve Months on the Road.