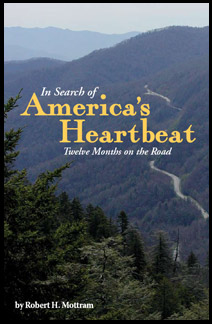 RV Travel in America - The Only Way to Truly See Our Country
A lot of us wouldn't label ourselves RVers, but when we contemplate an extended trip -- a really extended one, like the year-long road trip my wife and I enjoyed -- it quickly becomes apparent that RV travel is the only way to go. RV travel in America, in particular, with its wide array of campgrounds, provides what many people think is the best of all possible worlds.
Look at it this way: With RV travel, you're on the road every day (but only if you want to be), poking into places you've thus far only dreamed about. Each day is a potential adventure. Each day offers up new and unexpected things, unanticipated discoveries. Yet with RV travel, each evening you're eating at your own table, if you wish, and sleeping in your own bed. You can eat out if you want, and occasionally you may. You can rent a room if the spirit moves you, but it won't. With RV travel you're both at home and away at the same time. You're pursuing adventure in previously unknown and unexplored places, and yet you're surrounded by the familiar; by things that keep your comfort level high.
On our road trip, we would awake every morning in our own bedroom in our own queen-size bed. When we raised the window blinds, however, we might see giant fir trees just outside the pane. Or, through that same window we might see palm trees waving beside a white-sand beach, and sailing vessels riding at their moorings on the green water just beyond. Or we might see rows of giant cacti, arms raised toward a brilliant desert sky, and perhaps a covey of desert quail pecking in the gravel at their base.
It's hard to describe the thrill that comes when you look out your very own window early on a beautiful morning, and before you is an enticing scene that you've never seen before. And it's hard to describe the warm feeling that the memory of these things brings.
I tried to convey some of these satisfactions in my book, In Search of America's Heartbeat: Twelve Months on the Road. It's the story of my and my wife's year-long adventure, of our road trip across America in search of our country and ourselves.
We sold our house, put most of our goods in storage, and hit the road. It was a road trip to adventure and to self-discovery. It was a trip that thousands of couples dream about making.
Modern technology has affected RV travel in a big way, and there are lots of options for making such a trip. In our case, we searched around and bought a 32-foot fifth-wheel trailer, five years old, for about half the price of a new one in its class. The trailer was marked by the manufacturer as a 31-footer, but we discovered with our own tape measure that it contained an unacknowledged foot. We bought a three-quarter-ton diesel pickup to tow it, a Dodge 2500 long-bed. A fifth-wheel trailer is the kind with a goose-neck shape at the front that connects to a hitch located in the middle of the bed of your truck rather than to a hitch located near the truck's rear bumper.
As the philosophers say, everything you buy provides pluses and minuses. No matter whether you're buying a trailer, a boat or a bicycle, every design is a compromise, and you have to decide what you can live with most comfortably.
A fifth-wheel tows better than a standard trailer of the same size, and is easier to hitch to the tow vehicle, but you lose a bit of room under the goose neck that in a standard trailer would be interior space. In most fifth wheels, the master bedroom is located in the goose neck, usually accessible by way of one or two stairs from the main part of the trailer, and the higher floor there takes away a bit of head room. In our bedroom an average person could stand upright, but clearance was less than in the rest of the living area.
Our bedroom contained the queen bed whose foot end flipped up with a spring-loaded assist to reveal a storage area underneath; large hanging closets along one wall with mirrored, sliding doors; wooden dresser drawers for clothing and personal effects; a sink with mirror and medicine cabinet above it; and a large, walk-in shower with glass door. The toilet area was located in its own room to one side of the bedroom entry.
Two steps down from the bedroom was the living room, which contained a sofa-bed along one wall and two recliner chairs on swivel bases on the opposite side of the room. The entertainment center, built into the forward living room wall to one side of the bedroom entrance, contained a television, a VCR and a radio. The entire trailer was wired for radio, and we could direct music or other broadcasts from the living room to speakers in the kitchen or the bedroom or both. The TV was equipped both for old-fashioned broadcasts and for cable, which many campgrounds offered. A directional antenna atop the trailer could pull in broadcast TV where cable wasn't available. Where it was, which was most places, receiving it was a simple matter of plugging one end of a wire into an outlet at our campsite and the other end into an outlet on the trailer.
Between the end of the sofa and the kitchen was the dining area, which contained a wooden table and four wooden chairs, rather than a booth. We found the table-and-chair setup roomier and more comfortable than a booth.
A slide-out in the bedroom and a second in the living room and dining area moved a wall of each room outward a couple of feet, increasing the trailer's interior space significantly.
The kitchen contained a three-burner propane stove with oven, a microwave, a double sink and a standard-size refrigerator-freezer, along with a fair amount of counter workspace. Main entrance to the trailer was located along the "curb side" of the trailer between the kitchen and one of the recliner chairs.
The trailer was carpeted throughout, except for the kitchen and the bathroom, which contained linoleum. A propane furnace, controlled by a thermostat, provided heat when needed, and an electric air conditioner located in the living room ceiling provided relief at the other end of the spectrum. Trailer windows were tinted and contained slides which opened, and all were screened. The refrigerator ran on either electricity or propane. We would turn it off on travel days and leave its doors shut, and it would keep food cold all day until we could turn it on again in the late afternoon. Even ice cream in the freezer stayed firm.
A roll-up awning extended along almost the entire curb side of the trailer, including the entrance. Extended, the awning provided a nice sitting area, which we enjoyed on lawn chairs that we carried in the trailer's storage area. Many campgrounds provided a concrete patio at each campsite, over which the awning would reach.
We did laundry in campground laundry rooms. Nearly every campground has one, with coin-operated machines.
Below the trailer's living area was a "basement" storage area, accessible from outside the trailer by means of several lockable doors.
Karen and I had sought a 29-foot trailer as a good compromise for us between portability and comfort. We were unable to find one, however, and discovered that the 32-footer worked all right for our purposes. Our diesel pickup provided power to spare as a tow vehicle. Some weeks would find us on the road every day, and the fifth-wheel was maneuverable enough that we enjoyed the travel days. At other times, when the inclination hit us, we might remain in the same campground for days in a row; or even for weeks. When we did, the trailer provided enough comfort that it wasn't like camping. It was like relaxing at home.
On a typical travel day we'd get up about 6, shower, and eat a leisurely breakfast. After breakfast, Karen would pack a light lunch in a small cooler, which we'd carry in the truck. This would enable us to avoid opening the refrigerator door and losing cold air while on the road.
About 8:30 a.m. we'd start getting the trailer ready for blast-off, removing things from cupboard tops, making sure cupboard drawers and closet doors were shut securely and that vents and windows were closed and so forth. Finally, I'd go out and unhook the water, sewer, electricity and cable TV, and hitch the trailer to the truck.
Usually, we'd roll out of the campground about 9:30, which would put us on the road after rush hour if we were staying in a metro area. About noon we'd stop for lunch, usually eating in the truck, and we'd usually pull into a new campground by midafternoon. This put us ahead of the afternoon rush.
Most of the time, by 4 p.m. we'd have the trailer unhitched and hooked to utilities, and would be looking forward to a relaxing dinner and an evening with TV or a good book.
We could go when we wanted and stay when we wanted. Yard work and most other homeowner chores became history for us. We bought a small portable vacuum cleaner at an RV supply store, and that along with a bucket, a sponge mop and some dust rags were all that we needed. Occasionally I'd wash the trailer's exterior with a soap-and-wax product. But we had no lawns to mow, no flowerbeds to weed, no buildings to paint. Household chores took us about an hour a week.
The rest of our time was available for more important things.
For a couple of newcomers to the lifestyle, the pleasure that we found in RV travel was remarkable. RV travel in America crossed the line years ago from hardship to luxury, and we discovered that it's addictive.